Are you considering solo ad traffic, and came across iGetVisitors? Like most, you are probably wondering if it is legit or not. The home-business industry is full of solo ad scammers who just deliver fake clicks, and you are left with nothing to show for it.
Even if you chose to go down the path of pay-per-click advertising, the process of narrowing down your targeting can be quite a daunting task. If you get it wrong, you could easily be paying 2-5 times more per click than a solo ad.
Solo ads can be a fantastic tool for getting fast, targeted, reliable traffic to your offer. In this blog post, I want to address many of the common questions you might have about iGetVisitors before taking a chance on investing in some clicks.
What Is A Solo Ad?
A solo ad is an advertisement that is sent to a list of email addresses. It is an email message sent by the sender to a list of recipients that they have compiled themselves.
They are often used by online marketers and business owners who want to reach a specific group of people with their message.
It can be used for promoting products or services, generating leads and driving traffic to websites.
Tips For Making The Most Of Your iGetVisitors Campaign
Choose A Smaller Package At First
Wise marketers should always order small traffic packages, as they learn to adjust the effectiveness of their campaign over time.
I suggest starting with 50-100 click campaigns and testing a few different variations of your campaign to see which one is the best.
Create A Solid Landing Page (Video Click To Watch)
Consider Split Testing
Split testing is a method used by marketers to test two or more versions of an online marketing asset, such as a webpage, advertisement or email, against each other to identify which version provides the most desirable outcome (usually higher conversion).
Offer Something Amazing On The Front-End
Having an offer that retails for $17-$37 on the front-end of your funnel will help you make up the cost of advertising. The key is to make it something that your audience will really go for. Some people call this a Self-Liquidating Offer (SLO).
Unfortunately, most home-based business opportunities don't come with a really attractive offer. If you are struggling to find something, I suggest either making something yourself, buying a PLR product, or taking a look at a pre-made done-for-you funnel package like this one.
Focus On The Follow Up
It's no secret that fortune is in the art of following up your leads. Every lead that comes through getting visitors should at a minimum go through an email autoresponder series. You can easily create such a thing with GetResponse and Aweber. But make sure your double opt-in is turned off because otherwise several of your leads will probably forget to verify their email address and never get emails to your offer.
The iGetVisitors Order Process
Enter Your Order Details & Submit
The only thing you have to do to get started is to enter your desired landing page and your email into the get visitors website, then process your payment with Paypal. Shortly, you will receive a confirmation email with your order.
ClickMagick Verifies Delivery Of 100% Legitimate Visitors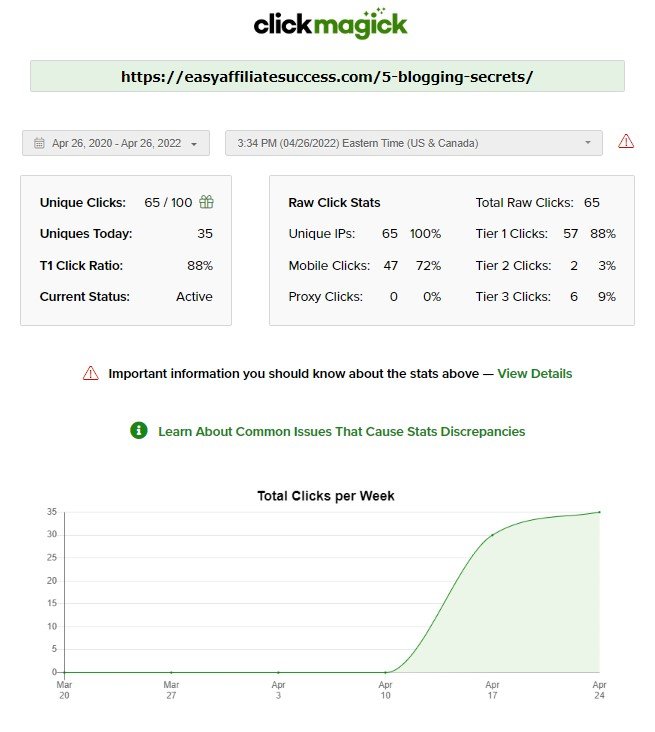 Is iGetVisitors Legit Or A Scam?
When it comes to marketing your business opportunity, several things can go wrong.
Poor Sales Copy
Non-Converting Offer
An ineffective follow-up
If you have all of these things, then you should be good to go with iGetVisitors. I get visitors is a legitimate delivery of traffic to your landing page. But that's all that they can guarantee, traffic. It is your responsibility to make sure that traffic converts.
My Final Verdict On iGetVisitors
I've tried several solo ad providers over the years, and I had a great experience with iGetVisitors. I suggest you follow the advice I provide in this blog post and give them a shot.