In today's world, many people are looking for ways to supplement their income or even start a business of their own. The internet has opened up new opportunities for everyone to create passive income streams without investing too much time or money. 
LiveGood is a company that offers a business model designed to help people achieve financial independence and success. In this LiveGood review, we'll take a closer look at LiveGood's business model and how it can help individuals achieve their financial goals. 
We'll explore the company's supplement products, the compensation plan, and the opportunities it offers for influencers and those looking for passive income streams. 
Whether you're looking for a new business opportunity or just interested in exploring the possibilities of passive income, this product review will provide you with the information you need to join LiveGood.
The Background Story of This Network Marketing Company

LiveGood is a leading network marketing company that provides innovative health and wellness products for people to live happier and healthier lives. Its product line includes superfoods, supplements, vitamins, and natural ingredients that support overall physical health and mental clarity. 
With a multi-level marketing (MLM) model, LiveGood reaches a broader network of consumers through independent distributors and partners who also share their experiences with others. 
By doing so, the company can extend its reach across the globe and provide health education to communities that otherwise would not have access to it. LiveGood is committed to customer satisfaction, making it the perfect choice for anyone looking to make a positive lifestyle change. 
Complete Plant Based Protein Supplements for Retail Customers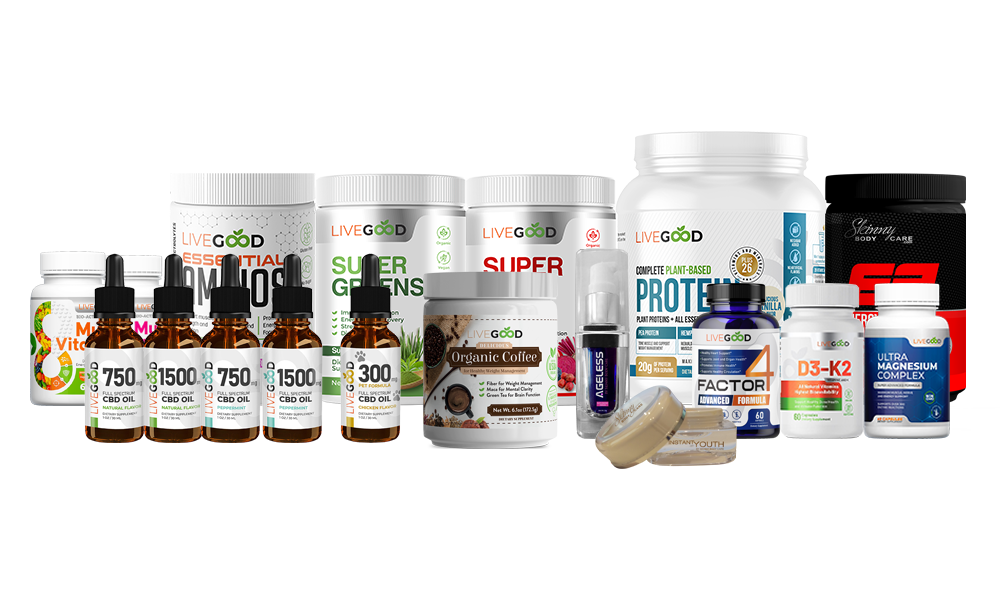 LiveGood offers an opportunity to become part of a rapidly growing network of health-conscious individuals striving to improve their lives.
This supplement brand, established by Ben Glinksky (CEO) in partnership with the Director of Product Development, Dr. Ryan Goodkin, Lisa Goodkin, and the Director of Network Marketing, Nauder Khazan, has taken the world by storm with the LiveGood affiliate membership twist. 
Dr. Ryan's chemistry and nutrition expertise, Ben's business acumen, and Nauder's marketing experience have resulted in the creation of LiveGood. This premium supplement brand aims to provide the best quality supplements at affordable prices. 
The core range of LiveGood supplements can enhance human health and performance. Apart from helping people save money on supplements, Dr. Ryan aims to allow people worldwide to add them to their training and diet to maintain lean muscle mass and promote healthy energy.
LiveGood offers up to 80% discount to save money on monthly supplement expenses while providing superior formulations to leading brands.
Plenty of Retail Sales Opportunities with LiveGood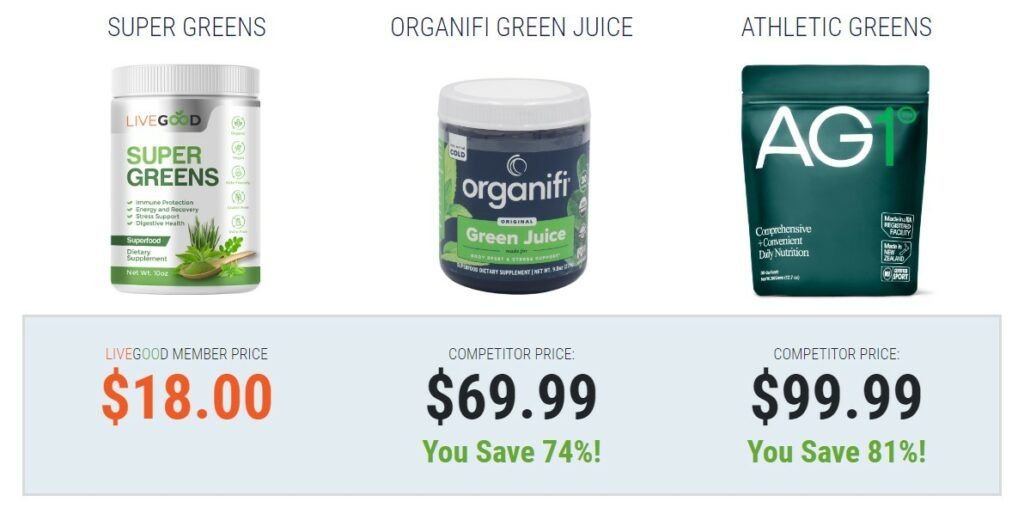 LiveGood's Organic Super Greens is a high-quality supplement that contains a blend of superfood greens to optimize human health and performance. This product is comparable to other popular super greens supplements, such as AG1, but at a fraction of the cost.
Its Organic Super Greens provides all the same health and performance benefits as other leading brands but at a much lower price point. A month's supply of AG1 can cost up to $99.99, while LiveGood's retails for only $18.00. That's a difference of over 80%.
Not only does LiveGood offer a cost-effective solution to supplementing with super greens, but it also has a high-quality CBD oil available for a fraction of the price of other leading brands. CBD oil is an essential supplement for anyone who trains hard, as it reduces systemic inflammation, aiding in exercise recovery.
LiveGood's CBD oil is available at a significantly lower price than other leading brands, and its 750mg product is only $18.99. This is a substantial saving compared to other high-quality CBD oils costing up to $90 monthly.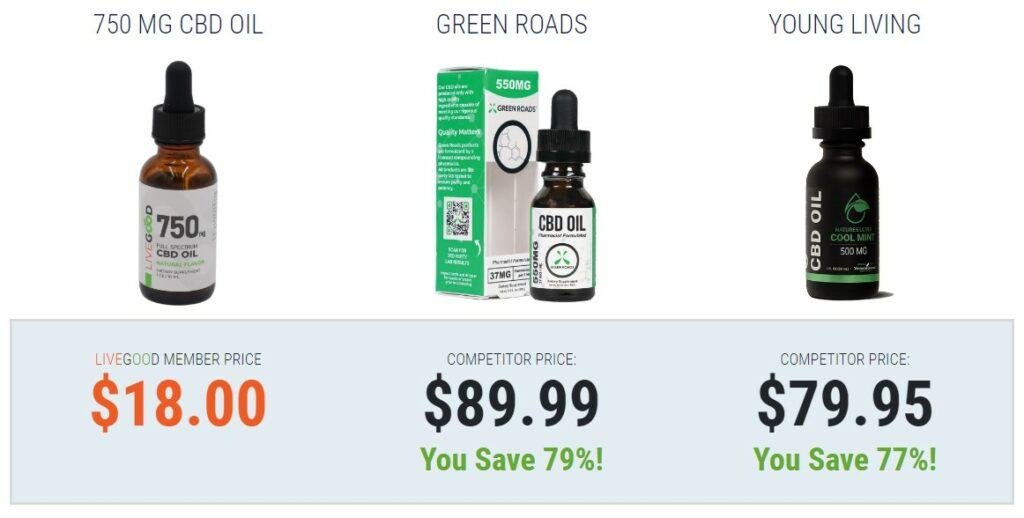 You can significantly reduce your monthly supplement bill by choosing its range of supplements while still getting high-quality products that optimize your health and performance. In fact, LiveGood's range of supplements might be better than other leading brands.
Joining the LiveGood network also presents an exciting opportunity to make money by promoting its products. This company is a supplement brand with an affiliate program, meaning you can make more money by helping others improve their health and performance.
Furthermore, LiveGood offers an excellent opportunity to join a rapidly expanding network of health-conscious individuals who are hungry to make more of their opportunities in life.
One of the Best Ways to Create a Passive Income
What if you could join a company that provides real value and allows you to earn a substantial income? With this network marketing company, you can earn real income while promoting a quality product at an affordable member price.
LiveGood is a fantastic company that offers a passive income opportunity. Unlike other network marketing models, there is no cold calling or attending meetings. With LiveGood, you can set up your company using a passive strategy and earn money on autopilot.
The potential for lifetime earnings is staggering, and the best part is that the work required to reach this level is minimal. You can make thousands of dollars monthly within six weeks of joining LiveGood.
If you're looking for a chance to make more money and have more time and freedom in your life, LiveGood is the perfect opportunity for you. 
Six Ways of Earning Money with LiveGood
Starting a company can be a challenging and risky endeavor, and it requires a significant upfront investment, countless hours of hard work, and a lot of time to start turning a profit. However, with LiveGood, you can begin without any upfront investment, and it's entirely free to join.
Have you ever encountered a genuine online opportunity that didn't require any investment to get started?
With LiveGood, you can not only save money on your next supplement purchase, but you can also start earning right away. Moreover, you can reinvest these savings in your business and make even more money each month.
The LiveGood compensation plan is so lucrative that you can make over $2,000 monthly without enlisting a single person. That's right – you can earn money without doing anything at all. Imagine how much you could achieve if you actively promoted the company to others.
You may be wondering how you can earn money with LiveGood. Well, it offers not just one but six different ways to make a passive income through the LiveGood affiliate membership model. Let's take a closer look at each of these six methods.
1. LiveGood's Weekly Fast-start Commissions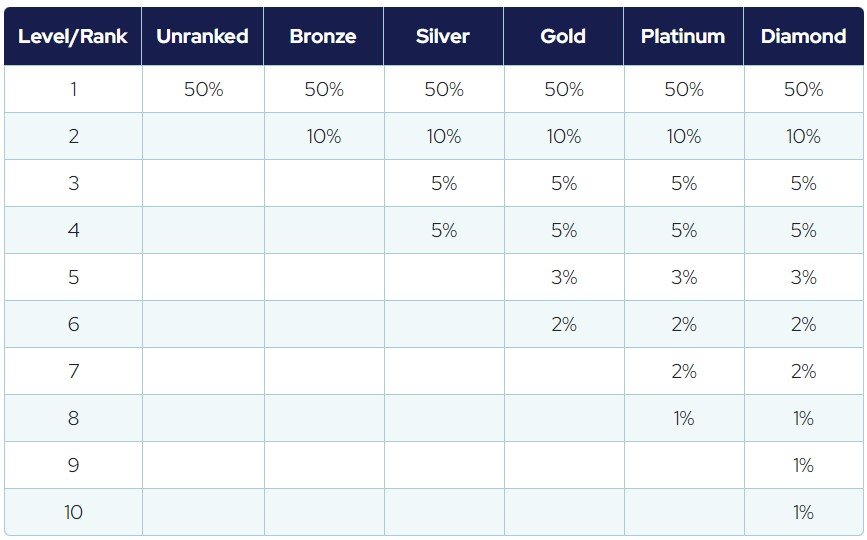 The company offers a free sign-up option for anyone interested in its products. However, the LiveGood affiliate membership pricing is now $49.95, if you want to become a part of the program.
Before you jump to the conclusion that this is a catch, consider that the savings you will receive on your supplement stack are more than enough to cover this fee. By reinvesting a portion of these savings into your business, you will have access to a starting point for earning passive income.
You will receive a $25 commission a week for each person you refer to the company who becomes an affiliate marketer for $49.95. With this opportunity, you'll make money in the initial week of signing up if you spend your savings on a supplement stack.
If you refer two people, you will have already covered the cost of your investment in your online business. Additionally, you will earn commissions on the efforts of those you refer, up to 10 levels deep in your downline. 
Additionally, you will receive 20 for new affiliates and $5 for new people that you refer to the company. Remember that not everyone may want to start doing business with the firm, but everyone will want to save money on their stack of monthly supplements.
2. Matrix Commissions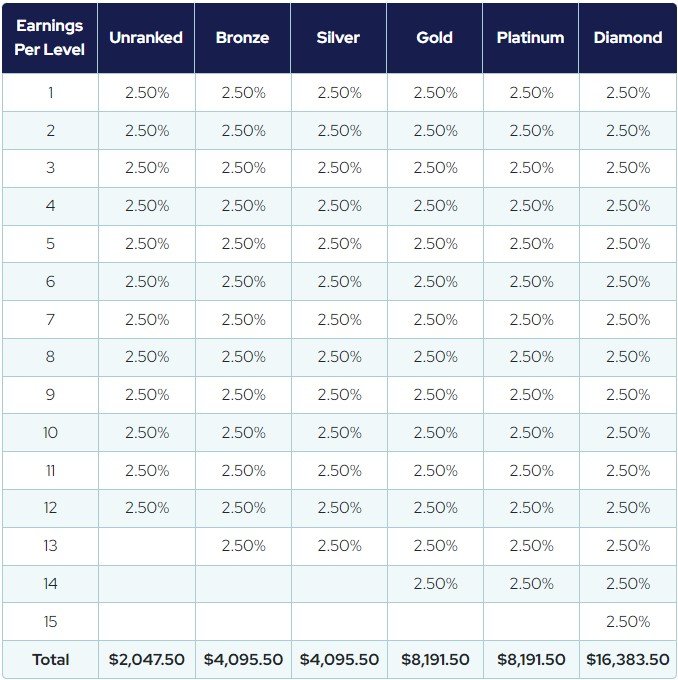 Once you become a LiveGood affiliate, you can join the "2×15 Matrix," a fast-growing system that allows you to earn commissions based on the volume of members that join after you.
The sooner you join, the higher up you'll be placed in the Matrix, giving you a greater chance of earning more commissions.
As a Matrix member who has opted for the yearly membership option, you'll receive $9.95 in monthly commissions for 12 months. LiveGood pays out matching bonuses and Matrix commissions every month for the last month's volume on the initial week of every month.
If you became a LiveGood affiliate with 50 members in your Matrix in January, you would earn a commission for that month.
Also, if you had 50 active Matrix members who paid their second-month memberships in February, you would get a Matrix commission in the initial week of March. 
However, if 100 more members joined your Matrix in February, bringing the total to 150 active Matrix members, you would get paid for the Matrix volume of February on all 150 members, including the 100 in their second and the 50 in their third monthly membership.
3. Matching Bonuses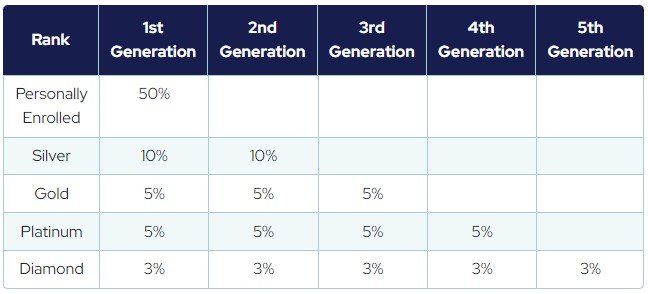 The compensation plan of LiveGood provides various opportunities to earn money beyond Matrix bonuses and fast start commissions. One of the most significant opportunities for earning potential is the matching bonus model. 
Moreover, the Matrix commissions earned by an affiliate can be matched by 50% on all new enrollments, and they can receive fees up to five times more, irrespective of their location in the Matrix. 
If an affiliate can earn a $3,000 bonus on each of their 10 affiliates and each of them earns $6,000 per month, the affiliate can receive $30,000 in commissions. 
4. Retail Commissions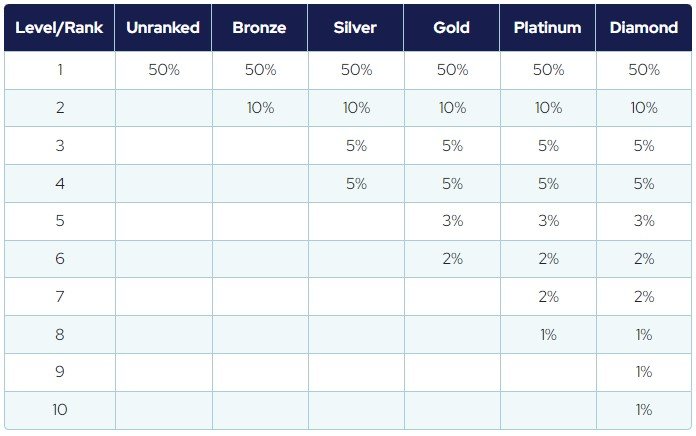 LiveGood offers a pricing system for its supplements, including member and retail prices. Its high-potency 750mg CBD oil is available at $28 for retail, a fraction of a competitor's 500mg product that costs $90 monthly. 
By becoming a member, you can purchase the product for only $18 and save $10, which is a considerable $80 less than the competitor's product. Even if you're not interested in being an affiliate, getting a membership is highly beneficial. 
Affiliates of the business are eligible to get a 50% compensation on the differences between member and retail prices for every item in the LiveGood range.
After signing up with your link, you can get $5 for each member who purchases the $10 cheaper CBD oil.
You will receive a commission on any lifetime sales generated by the users you sign up for since LiveGood pays retail commissions using the same payout system as it does for fast-start commissions.
5. Influencer Bonuses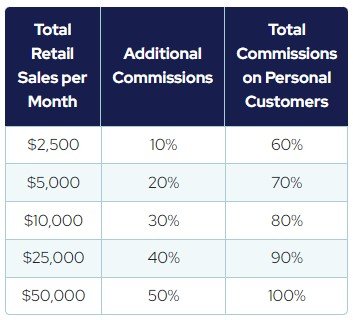 Are you a social media influencer? If so, LiveGood offers an enormous opportunity for you to make money.
Depending on the number of retail sales you generate, you could receive a 100% commission on the difference between the member and retail prices of LiveGood products.
Regardless of your level, the company awards influencer compensation entirely based on the monthly retail volume you sign up for.
6. Diamond Bonus Pool
Upon reaching the Diamond rank in the LiveGood affiliate model, you become eligible for the Diamond Bonus Pool. This entitles you to a portion of 2% of the company's sales every month.
Building Passive Income with LiveGood's Business Model
The LiveGood business model offers an opportunity to create a real passive income. Passive income is the money you make without actively working for it. Unlike traditional jobs or businesses, creating a passive income stream requires little effort once established.
LiveGood's business model requires some effort in the initial months to establish a Matrix and downline, but after that, earning passive income is possible with minimal effort. 
This process continues as long as you remain an affiliate. With the growth of your Matrix and downline, more people will join, and you'll sell more supplements. 
Eventually, you can sit back and let your Matrix members promote the business for you, requiring little active promotion from your end. This advantage makes LiveGood an excellent opportunity for building a long-term passive income stream.
Discover the Top 7 Reasons Why Joining LiveGood Is a Great Idea
If you're looking for a low-cost, high-reward opportunity to start your own global online business, look no further than LiveGood – here are the top seven reasons why you should join today!
LiveGood is a leading multi-level marketing platform that offers a streamlined approach to building a global online business. The founder, Ben Glitsky, has extensive experience in network marketing, nutrition products, and digital marketing.
This company simplifies starting the entrepreneurial journey with its built-in marketing and follow-up system that eliminates the need for extensive work.
Members are not required to purchase expensive products, and the platform has a low cost of just $9.95 per month.
The platform offers various features such as customer relationship management tools, retail sales tracking, automated invoicing and payment processing, and detailed analytics for evaluating performance, making it easy to build and grow a global business.
LiveGood allows users to create their own network marketing teams and recruit new members from around the world, presenting a significant opportunity for early adopters to secure their position and take advantage of the growing market.
Many members appreciate the lack of high fees or auto shipment requirements with LiveGood. Also, members aren't required to purchase anything unless they choose to.
LiveGood's forced Matrix enables members to benefit from its upline's recruitment efforts, allowing them to earn a residual income of up to $2,047 per month without having to do anything.
What's the Mission of LiveGood?
The mission of LiveGood is to help people achieve and maintain good health without spending a lot of money.
Many people in the United States are deficient in one or more essential vitamins and minerals, which can lead to poor health and a weakened immune system. 
Proper supplementation is essential to maintaining good health, but many people turn to drugs to treat symptoms instead of preventing issues from occurring in the first place. 
LiveGood offers a solution by providing high-quality vitamins, supplements, and skincare products that are created by natural health experts and made with the best ingredients available. 
What Does LifeGood Offer
It is worth noting that the company provides various products at affordable prices, such as: 
Unisex Bio-active Multi-vitamins,
Ultra Magnesium Complex, 
D3-K2, 
Organic Super Greens, and
Complete Plant-based Protein (The Ultimate Protein Supplement).
Network marketing companies regularly charge higher rates for goods to pay their distributor via multi-level compensation systems. When compared to the broader market, LiveGood's products are reasonably priced.
The serving quantities and sizes of LiveGood products are acceptable, and the pricing is reasonable, making them an excellent deal.
Final Thoughts
In this LiveGood MLM review, we've covered how this network marketing company allows you to start a legitimate business with minimal capital investment and that you don't need to spend thousands of dollars to get started. 
You can either focus on products for humans or for pets, such as the chicken-flavored pet formula, to cover even more people in the MLM industry.
Moreover, you could be on your way to success in just a few minutes. Though here's the catch: success requires action. Without taking action, nothing will happen.
Therefore, become one of the LiveGood affiliates and easily sell quality products to retail customers. Join LiveGood and create an online business today by taking action and signing up.
Frequently Asked Questions
As LiveGood continues to grow and gain popularity, it's understandable that you may have questions about the products, compensation plan, and business opportunity.
1. Does LiveGood Offer Any Bundles or Packages for Its Supplements?
LiveGood provides discounted bundles and packages that comprise multiple supplements. 
These packages cater to specific health goals, such as the Daily Essentials Pack, Maximum Energy Pack, Ultimate Wellness Pack, Lean Body Pack, and Skin Care Pack. 
The Everything Pack, LiveGood's most extensive bundle, includes supplements, CBD oil, and skincare products.
2. Does LiveGood Conduct Lab Testing on Its Products?
Yes, LiveGood collaborates with AmeriCanna Laboratories and Alternative Labs in Florida to conduct lab tests on certain products such as CBD oil and superfood formulas. 
Moreover, the LiveGood website offers certificates of analysis (CoAs) for these products, providing additional transparency to retail customers.
3. How Does the Earn by Sharing Program Work?
The Earn by Sharing program allows independent affiliates to earn commissions by sharing LiveGood's health products and building teams of other affiliates who do the same.
The program offers four income streams: commissions on retail product sales, club membership fees, team commissions, and matching bonuses.
4. What Are the Pros of LiveGood?
Live Good MLM has multiple advantages:
A large market is interested in health improvement, making it a lucrative niche.
The business model is genuine and has the potential to generate real income online.
LiveGood offers a refund policy, allowing prospective clients and promoters adequate time to evaluate if the opportunity suits them.
5. What Are the Membership Costs and Benefits of LiveGood, and What Is Its Refund Policy?
This company provides a membership plan that grants access to LiveGood products at retail prices. The membership fee can either be paid monthly at $9.95 or yearly at $99.95. However, an additional fee of $49.95 is required to become an affiliate.
Furthermore, LiveGood has a refund policy for cancellations made within 30 days of joining, with a 100% refund given if no purchases were made from retail customers on complete plant-based protein and other supplements.