Are you wondering if this health and wellness MLM is worth giving a shot? You'll find many answers to your questions in this Root Wellness review.
If you're considering joining Root Wellness, you're probably already exhausted from trying to research all the different products, potential pitfalls, and compensation plan.
No one has time to research these things anymore. It's so easy to get lost in the noise and become overwhelmed. You're thinking about quitting when you discover that you can't even keep track of one or two MLM programs.
You've finally found a way to simplify your life and make money from home as an entrepreneur! Root Wellness is a company that offers a line of natural health products that are designed to detox and restore your brain, gut health, and more.
Who Started Root Wellness?
Root Wellness was founded in Nashville, TN by Clayton Thomas & Dr. Christina Rahm. As you can read from their bios, they bring to the table very synergistic skill sets that complement each other. Dr. Rahm brings her experience from her science background in formulating compounds. Clayton brings his expertise in the business side of sourcing, manufacturing, and distributing. When combined Root is able to bring world-class ingredients in high-quality products right to your door.
Dr. Christina Rahm – CEO
Clayton Thomas – Founder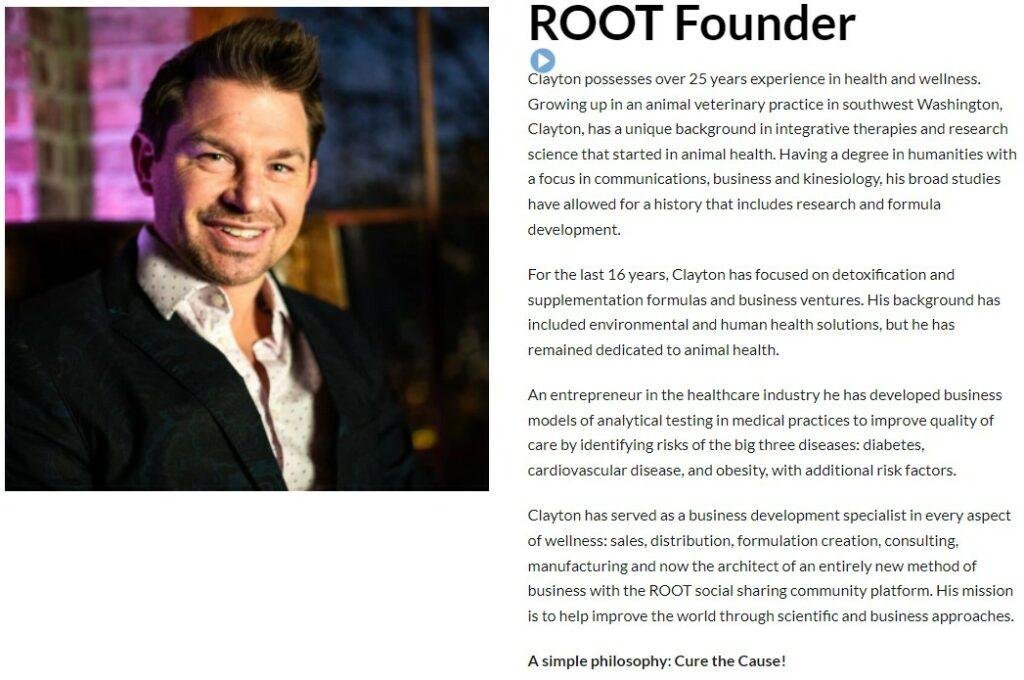 Root Wellness Affiliate Program
Their base commission on selling Root products is 15%. However, as you sell more, you can also unlock daily pay, which is an extra bonus when you produce consistent sales in a 30-day rolling calendar. They also have a monthly Harvest Reward, which is based on your monthly sales and starts at $100.
As you continue to sell Root products, all your referrals will be kept in your back office. You'll earn commissions whenever they make a purchase, forever. At some point, however, your referrals will also become affiliates. In that case, you'll earn a 10% commission when they refer someone.
Is Root Wellness MLM, Affiliate Marketing, Or Both?
Although there are some resemblances of an MLM company, this company has more of a 2-tiered affiliate program.
Unlike MLMs, Root doesn't have a business kit or marketing kit for new affiliates. Therefore they don't require anyone who joins to make a purchase, nor require autoship in order to take advantage of their affiliate program.
However, one of their pre-requisites to be able to earn commissions is you must refer 2 customers at a minimum to be eligible to become a "Root Ambassador". Becoming an Ambassador is completely optional, and anyone who hasn't referred 2 customers still is eligible to earn a 15% reward to be taken off on their next Root purchase.
Root Wellness Products – The Trinity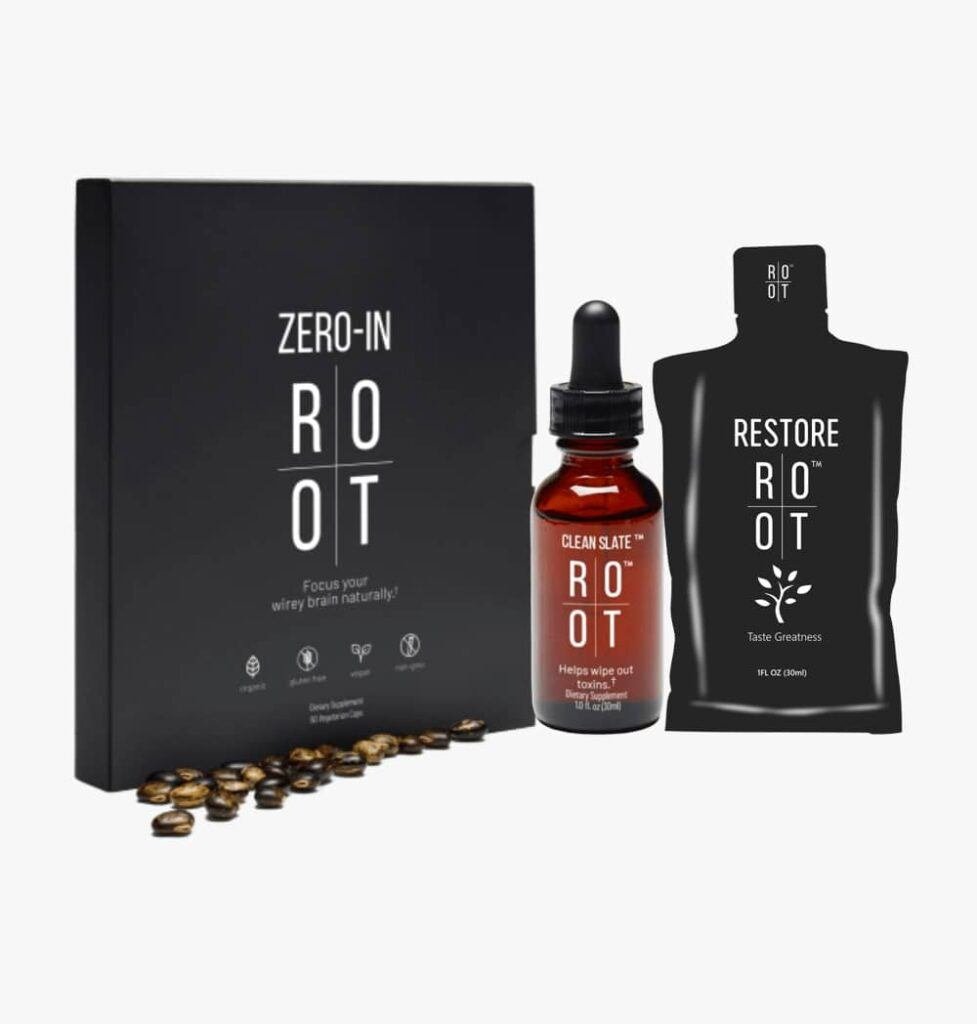 Clean Slate
Clean Slate is one of their top products that passively removes toxins from your body through natural zeolite.
This isn't a normal zeolite supplement though because the zeolite has been put through a proprietary process that polarizes the zeolite fragments that enhances the ability of Clean Slate to remove toxins effectively.
Another thing that makes it unlike any other zeolite product on the market is that it has been combined with 72 ionic trace minerals from Sea Salt from one of the purest sources on earth, The Great Salt Lake.
The reason that they put trace minerals in their product is that as the zeolite removes toxic heavy metals, from nutrient binding sites, nutrient gapping occurs. By adding trace minerals you are preventing nutrient gapping by immediately swapping out heavy metals with trace minerals at these nutrient binding sites.
Zero-In
Zero-In is a Nootropic supplement that is unlike any I've personally experienced before. One of the primary ingredients in this supplement is Velvet Bean, which has the ability to increase your dopamine and serotonin production.
When combined with several of the other ingredients, the best way I can describe it is, a calm-focused state of mind, that lasts up to 14 hours.
"I've nearly replaced my need to drink coffee because of Zero-In. The difference between the iritable-jittery feeling from morning coffee, and the calm-focused feeling I get from Zero-In is staggering."
Restore
Restore is a product that is designed to restore the microbiome of your gut. Each pouch contains a cocktail of several ingredients that are proven to help:
Restore your microbiome
Help you lose weight quickly
Increase your metabolism
Improve your brain health, because science has proven there is a strong link between gut health & brain health.
Boost your immune system
Supports bone health.
Supports healthy blood pressure.
Provides antioxidant and anti-inflammatory benefits.
Perhaps one of the most prominent benefits that I experienced while taking Restore is my joints didn't seem to ache nearly as much, and I effortlessly lost 5-10 pounds in just a couple of weeks of taking Restore.
When these three products are used simultaneously, the rejuvenating effects on the brain, gut, and the rest of the body, have produced staggering testimonials all around the globe.
Benefits Of Root Prime Subscription (RPS)
Root Prime Subscription is a recommended, yet completely optional, monthly auto-ship program designed to help you save money on shipping, and bring you exclusive Root Wellness Coupon Codes, among other benefits when you keep purchasing Root products.
Some of the RPS program benefits include:
Dedicated Customer Support
FREE SHIPPING on 2nd and all consecutive RPS orders.
RPS Tokens (a $15.00 value) to offset shipping on orders placed outside of the RPS program, should you need a product between scheduled shipments.
$50 Loyalty Reward Gift Card (subscriptions up to $175 per month) each time you successfully complete 4 consecutive RPS deliveries. Gift cards can be redeemed on future orders.
$100 Loyalty Reward Gift Card (subscriptions $176 per month and over) each time you successfully complete 4 consecutive RPS deliveries. Gift cards can be redeemed on future orders.
RPS Call, re-occurring once each month on a dedicated day and time, specifically for ROOT Prime subscribers. You will not want to miss this call!
It is also important to note that, although it is not listed here, there are also sweepstake drawings that are done for RPS members. The last one was a drawing to win a Tesla!
Something that I really like about the RPS is they give you a $50 Root Wellness Coupon Code or Gift Card that can be used on a separate transaction from your subscription. If there is a Root product that you haven't tried, you can put in an order to get it for a great discount.
My Final Verdict On Root Wellness
In the home-business industry, it is refreshing to see a company like Root Wellness. In an industry where the standards seem to be that you have to "Pay to Play" with required purchases of business kits, and required monthly auto-ship, Root provides an opportunity like no other. You can earn with Root, while you learn how to build your business. If you need some guidance on how to build a profitable health & wellness business, I suggest you take a look at the eBook: Health & Wellness Blog Domination.