Do have an affiliate website, but feel like it is just too difficult to manage in order to keep it performing well on the Search engine results pages?
If you're like most affiliate marketers, you're struggling to juggle your own business by finding the time to focus on SEO. If you are like me, you wanted to resort to outsourcing these tedious tasks so you can focus on more productive activities.
Fortunately, there are three affordable SEO services that won't break the bank or your website. If you're looking for easy-to-implement strategies like backlinks, basic keyword research, and other best practices to help enhance your website, these three SEO services will give you an edge in all areas of search engine optimization.
Why Use SEO Services For Affiliate Sites?
Even if you consider yourself quite competent in SEO and blogging, you can find it difficult to scale up your websites and income by doing everything yourself.
Outsourcing the areas you aren't as competent in, or just feel like need to be done by a third party can help you put more focus on the areas of your business that will result in growth.
The Most Crucial SEO Services To Grow Your Affiliate Sites
Keyword Research
Keyword Research is one of the best SEO tools for affiliate marketers. It has been a cornerstone of SEO since its inception. Although it has traditionally been intimately related to optimization, keyword research today goes beyond merely SEO. Since keywords should constantly act as a guide for any effective digital marketing strategy at every level, keyword and phrase research is also a crucial part of every digital marketing.
Backlink Analysis
Backlinks are necessary for affiliate websites to rank on Google for challenging keywords. While it's possible to rank for a few low-volume keywords without links, the most lucrative ones always require them.
Many SEO affiliate programs have benefitted from this service. As a marketer, you should take backlink analysis seriously to help you convert leads into sales.
Content Creation
This may sound fairly apparent, but marketers occasionally get preoccupied with the specifics of their on-page SEO and fail to prioritize developing fresh, high-quality content for searchers.
You have the opportunity to immediately optimize new material for current SEO best practices when you produce it. Pay attention to the page titles, headers, subheaders, picture alt text, and the new keywords you're aiming for.
Users also value new content more than they do outdated content. People frequently check the date for relevance when looking for answers to questions. If all of your posts contain out-of-date information and dates, people will swiftly move on to the next search results.
Last but not least, freshness is a ranking criterion unto itself. Google will index your pages more regularly and give your content a higher ranking as you provide more content.
As an SEO affiliate marketer, you should know that this covers copywriting, article writing, video making, podcasts, etc. You can include your affiliate link in the content to help increase affiliate sales.
Rank Tracking
Rank tracking is another excellent SEO tool for an affiliate program. Programs such as Hunter Affiliate Program pays marketers who get more organic traffic. This is why this service is a vital part of the best SEO affiliate marketing agencies.
If you want to get the most out of your SEO efforts, tracking keyword rankings is still crucial.
Ensuring your website is visible, occupying important search engine real estate, and generating additional traffic, sales, conversions, and money may be accomplished by monitoring keyword rankings.
Track the effectiveness of your website and develop a keyword or phrase research plan that works overtime with the correct tools, platforms, and procedures in place.
You can use this service to keep an eye on how your rivals are doing as well.
Always keep an eye on the rankings of your rivals to find out where their visitors are coming from and what fresh keywords are bringing them to their websites.
You can determine how well you are performing concerning your competitors by keeping an eye on how they rank for specific keywords. This will also help you choose what material you may require.
Here Are Our Favorite SEO Services For Affiliate Websites
I am not saying that you have to use all these SEO services for your affiliate sites. Many of their services overlap with one another. I do however suggest you pick the one that is right for your unique situation.
#1 Ranked.ai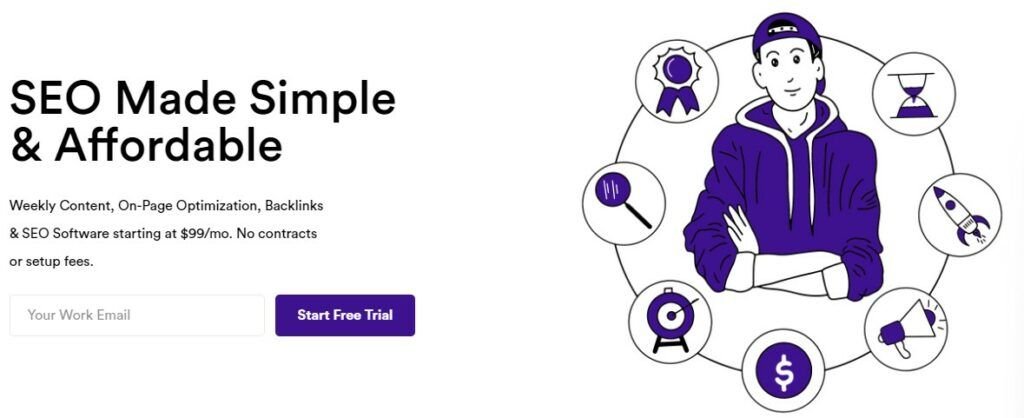 Ranked.ai is an affordable SEO agency that mainly provides a few core services:
A Professional SEO Dashboard
Weekly articles (usually 500-800 words in length)
On-Page Optimization
Manual Outreach Backlinks
Ranked is an outstanding company that provides cost-effective services that are easy to use.
Additional Add-On Services Ranked.ai Now Offer
When I first started working with Ranked.ai, they only provided the few services listed above. However, they have since expanded their offerings for additional fees. Some of their new add-on services include:
Google PPC Ads
Long-form article writing
Web Page Copywriting
What I can say after testing out their add-on services is that it is really convenient to be able to access their top-tier writers and ad managers for my more detailed projects, without having to have it all done through third parties.
If I were you, I would consider onboarding with Ranked.ai if your site is already pulling in a few hundred dollars a month in affiliate commissions. This will give you at least the most basic level of weekly articles, on-page optimization, backlinks, and access to their add-on services. Then you can just increase your monthly subscription with them as your site continues to grow.
Read Our Detailed Review Of Ranked.ai
#2 Ranking-Articles.com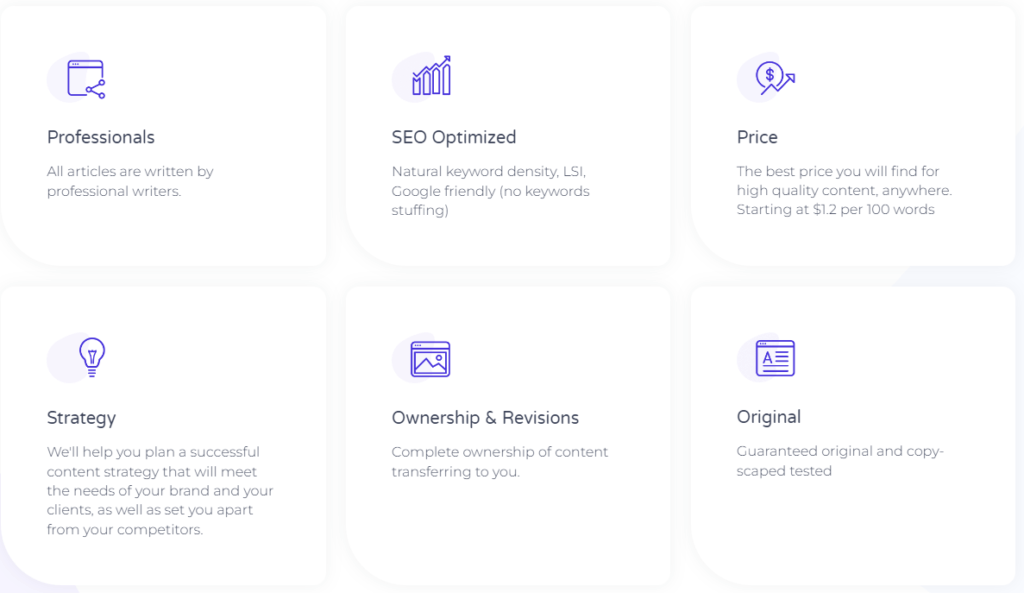 Ranking-articles.com is easily the best place to get access to SEO-optimized articles at a reasonable price. There are other places to have articles are written, such as iWriter.com and Hirewriters.com, however, neither one of them come close to their level of quality.
Ranking-Articles even provides services tailored to bloggers, such as having your articles optimized with SurferSEO and having your content published to your WordPress site. Although this is an extra fee. It can be well worth the investment.
I suggest utilizing Ranking-Articles when you are just starting out your affiliate site. When I first started blogging I had very little time to actually write, but I had a good idea of what content I needed to have written in order to get traffic that would bring me, email subscribers, and customers.
Ranking-Articles.com was a Godsend because I could hire them on a per-project basis instead of investing in a monthly subscription to have access to their staff of writers.
Read Our Detailed Review Of Ranking-Articles.com
#3 NicheWebsite.Builders

Although NicheWebsite.Builders are on the more expensive side of SEO services for affiliate marketers, I still consider it a great resource to have because they have several quality services that an affiliate marketer can use. Some of these services include:
Complete DFY Niche Affiliate Sites
Content Writing Packs
Backlink Services
HARO Outreach Links
Niche Website Builders provides the most comprehensive content generation service for SEO affiliate programs. It includes a total hands-off service, taking care of everything from keyword research to content publication and link building.
If you need SEO services that the previous two companies don't provide, then you can likely find a solution at NicheWebsite.Builders.
Read Our Detailed Review Of NicheWebsite.Builders
My Final Thoughts On Choosing The Best SEO Services For Your Affiliate Sites
Finding an SEO Service that fits your unique situation can be a challenge. If you are just starting out building your site, I suggest you consider Ranked.ai so you can have access to their team of professional copywriters. If you are on a more strict budget, Ranking-Articles can provide any content writing service you need on a per-project basis. However, if you need more tailored white-glove services NicheWebsite.Builders probably will have the SEO Services for you.
Pick the best one that works for your situation, and you likely can't go wrong.